Address
Smashing Pink / Sportcentrum Amstelpark
Koenenkade 8
1081 KH Amsterdam
Contact
How to get there

By car
On the Amsterdam ringroad A10 take exit S 108. At the end of the exit turn left. Follow Amstelveenseweg until you have the entry of Amsterdamse Bos on your right. You will find a parking on your right. Note it's a paid parking, first 3 hours for free, after that €2,50/hour (€0,25/6 min. and €15,– max for a full day). There is also the parking of Spa Sporthotel Zuiver next to Smashing Pink tennis courts for €2,50/hour.
Public Transport
Bus
Bus 62, 242, 246, 341, 346, 347, 357: get out at VU Medical Centre. From there it is a 10 min. walk in southern direction on the Amstelveense weg to Koenenkade. Check times and details for all public transport in the Netherlands at www.9292.nl With an OV-chipcard you can travel in tram, bus, metro and train. You can buy an OV-chipcard at Tabacco shops and any supermarket or in the ticket machines at the trainstation. Cost €7,50 and you have to charge it with the amount you want. Use the card to check in when you enter the transport and don't forget to check out when you leave it.
Metro / tram
Line 50: get out at stop Amstelveenseweg and walk 10 min. in southern direction to Koenenkade. Line 51: get out at stop A.J. Ernststraat and walk 10 min. in west direction to Koenenkade. Tram 16 en 24: get out at stop Vu Medical Centre. From there it is a 10min walk in southern direction to Koenenkade.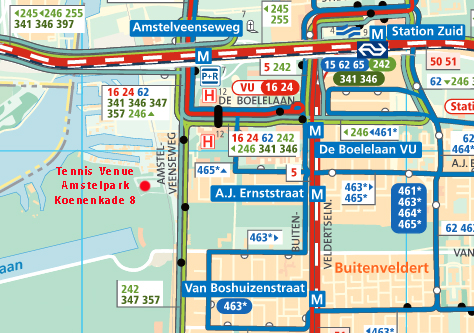 Venue Amstelpark
The Pinkster Tournament takes place at Sportspark Amstelpark, located in a large green park. The venue has 21 outdoor gravel courts (red clay) and 11 indoor hard courts. It offers a cool restaurant with hot and cold meals and snacks (NO CASH, only bank- or credit card!) Free wifi is available and there is a tennis shop. The tournament has massages and fysiotherapists available. Tickets available at the tournament desk. The venue has a fitness, spa and pool and plenty of parking. Sportcentrum Amstelpark and Spa Sport Hotel Zuiver Koenenkade 8 1081 KH Amsterdam +31 (0)20 3010700 www.zuiveramsterdam.nl
Press information
For more information on the Pinkster Tournament and images, please fill in the contact form on the left and submit your request. The tournament director(s) will contact you asap.
Pinkster Hotline
Only during tournament or in case of emergency or delay, call this number (hotline nr not available)

Questions about matches? Go to the GLTA site.
Questions about activities, transport, etc.? Find the answers on this website.
You can also ask your questions by mail or via the form on the left.