Pinkster Tournament
Together with 100 volunteers we warmly welcome you at the 26th edition of the Pinkster Tournament. We are proud to be one the largest mixed gay and lesbian tournaments with men, women and transgenders from over 20 countries. From 18-21 May 2018 we will play 4 days of fun tennis at all levels and with many nationalities on the gravel courts of Amstelpark. If you are looking for accommodation in Amsterdam, please book early! Look into some options.
We welcome you at our 26th Pinkster Tournament, May 18th-21st 2018!
Thursday May 17th | Meet & Greet | From 19 o'clock.       Grand Cafe l'Opera, Rembrandtsquare 27-29 Amsterdam
History
In 1993 a few gay and lesbian tennisplayers took the initiative to organise a friendly gay and lesbian tournament. 16 men and 16 women from various tennisclubs participated. The event took place on Pinkster Saturday. In 1994 they organized the tournament again, this time as a preparation for those who were going to participate the Gay Games in New York. Amsterdam sent a strong delegation to the New York Gay Games because we were bidding to host the Gay Games in 1998 Amsterdam. You probably know that we won the bid! Since 1995 the gay tennisplayers used a couple of courts on Saturday afternoons, and gradually their initiative attracted more participants. The idea for a gay and lesbian tennisclub was born. In 1996 Tom Bijlmer and Ed van Betuwe founded the first gay and lesbian tennisclub: Smashing Pink. The club got their first clay courts at NTC tennispark. In the years to come Smashing Pink grew rapidly to over 400 gay and lesbian members. Once Amsterdam was elected to organize the Gay Games in 1998 the yearly Pinksterstennis became a rehearsal for organizing gay and lesbian tennistournaments on a larger scale.
For clubmembers as well as for many others the Pinkster Tournament is a yearly highlight.
Pinkster Trophy
In the spirit of gay and lesbian visibility in sports the Pinkstertournament rewards a remarkable participant for his or her achievements every year. The Pinkster Trophy symbolises gay empowerment. The trophy was initiated by Ed van Betuw, one of the founders of the Pinkstertournament: "The trophy emphasizes the aim of the tournament for inclusion and gay empowerment in sports. Everyone, regardless their gender, age or level of play can win the trophy." Artist Berenice Witsen Elias designed the Pinkster Trophy. Diego Puls wins the Pinkster Trophy 2017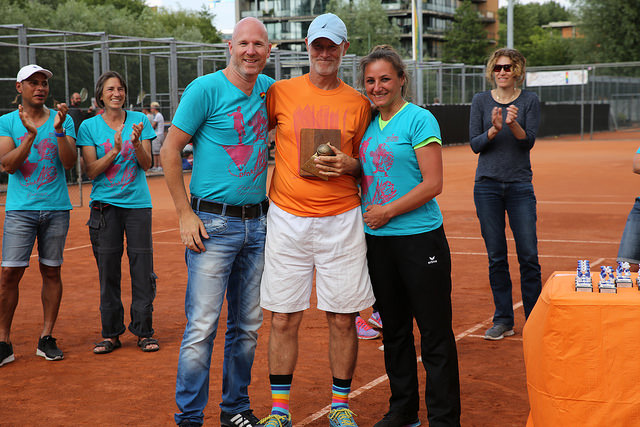 Previous Winners Pinkster Trophy
2017 Diego Puls
2016 Sussi Oscarsson
2015 Sophie Barbier
2014 Luis Madejón Muñoz
2013 Marcus Tettera
2012 Jaime Koster
2011 Marianne Brandt
2010 Patrick Tang
2009 Roman Pavlicek
2008 Luc Albert
2007 Francis Dunselman
2005 Rens van Roosmalen
2004 Pieter de Vilder
2003 Gerrie Mulder
2002 Peter Ravell
2001 Remi van Gent
2000 Jacqueline van Meyel
1999 Uwe Lammel
1998 Karel Kneppelhout
1997 Margie Scharff
1996 Mariels Braat
1995 Marianne R. Vrijdaghs
1994 Annelies van Wijngaarden
1993 Hans Tulleners